Kinkuna Beach

Queensland's quintessential coastline is one of the sunshine state's most sought after selling points. And across the Southern Great Barrier Reef, you are truly spoiled for choice with secluded, sandy-white beaches stretching from one coastal community to the next. If you're unsure exactly where to start, then look no further than Kinkuna Beach in the Burrum National Park, which is sure to tick all the boxes on your beach bucket list:
Secluded;
Silky white sand;
Seriously clear water.
Kinkuna is open all year round, but aim to visit between August and October and you'll be treated to a kaleidoscope of colours as the local wildflowers come into bloom. There are more than 40 camp sites available, nestled behind the sand dunes however access to the camp ground is quite sandy and high vehicle clearance is recommended. But once you're there, the whiting are perpetually biting in Theodolite and One Mile Creek alongside bream, flathead and salmon. And for photographers, the Central Queensland sunsets are second to none!
Miara Beach
For a stunningly secluded beachfront getaway in caravanned comfort, or a campsite with a view, look no further than Miara Beach.
Miara Beach Holiday Park – on the banks of the Kolan River and just metres from the beachfront - is a throwback to coastal camping holidays from days' past and the perfect place to park the van for a week (or two). Here you can catch a fresh feed of fish for dinner every night, ranging from bream to barra and almost everything in between. Or to try your luck a little further from the shore, choose between two boat ramps that are both easily accessible from the park.
We'll also let you in on a sneaky secret known only to a few lucky locals; Miara is almost made for kayak fishing! The crystal clear water and calm conditions offer easy paddling and the chance to drop a line right in front of some unsuspecting flathead, which can then be cooked over an open fire with a little lemon, salt and butter. Bon appetit!

North West Island
North West Island is probably best described a pirate's paradise; stunning, serene and undeniably secluded. Located 75km from Gladstone, it is the largest coral cay in the area and is indeed an integral attraction of the Capricorn Cays National park. Not surprisingly, the island is only accessible by boat and ferries depart the Marina daily.
But fear not, North West is as much 'Johnny Depp' as it is 'Jack Sparrow'; underneath a rugged exterior, you'll find a complex inland ecosystem and a number of bushwalks crossing the island from almost every direction. Low tide also allows for some beautiful reef walks, and be sure to keep a sharp eye for baby loggerhead turtles during the November to January nesting season. And of course, North West Island is one of the best diving and snorkelling spots across the entire Southern Great Barrier Reef and home to a menagerie of molluscs, manta rays, moray eels… and a variety of other sea life not starting with 'M'.

Due to the distance from the mainland, extending your stay over three or four days is recommended but bookings are essential as the island only permits 150 people at any one time. So, for a little 'arrgh 'n' arrgh', point your compass North West and enjoy me hearties yo ho!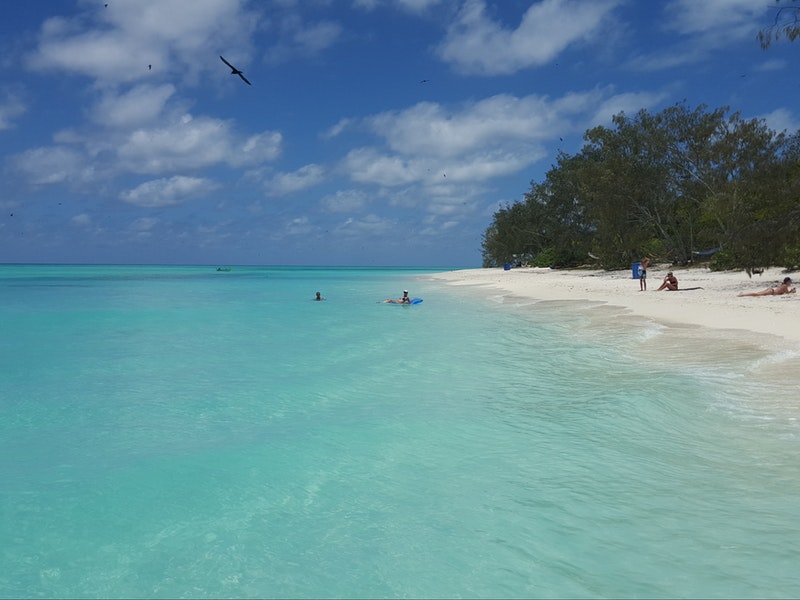 Springs Beach – Agnes Water
Holiday makers have been searching for sun-soaked seclusion ever since Captain Cook first set foot on the sparkling sands of the Sunshine State way back in 1770.
Well, the search is over. Springs Beach, on outskirts of Agnes Water, boasts the big four – sun, sand, surfing and swimming – without the big crowds. One-way-access guarantees plenty of room to spread your beach blanket on the sand and the only decision you have to make, is how to spend your day; be it bushwalking on the nearby Red Rock Trail, fishing for flat head and bream, surfing the subtle right handers or kicking back with a good book. We recommend all four!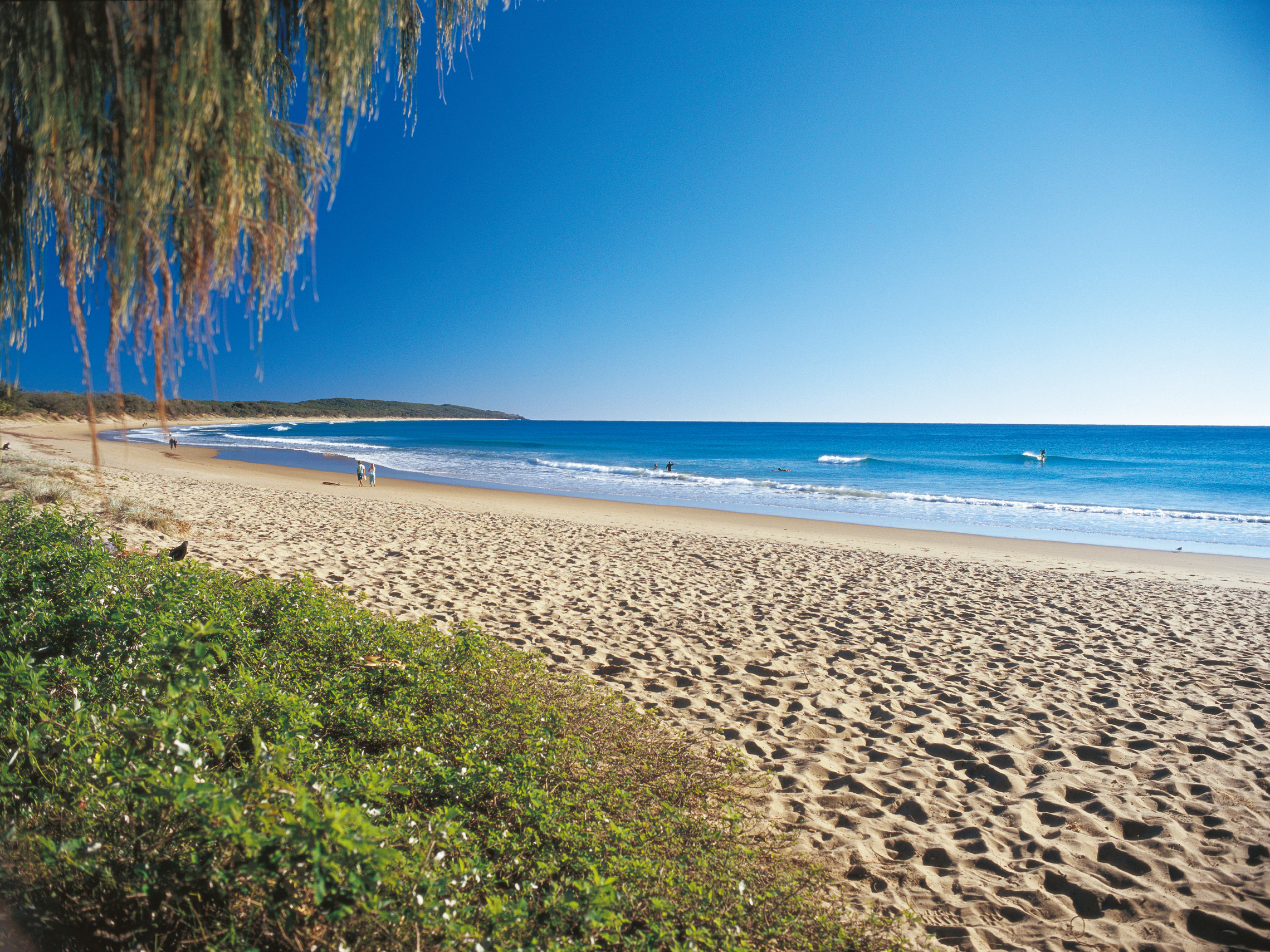 Long Beach – Great Keppel Island
There are exactly 11,761 beaches scattered across Australia, so when one is consistently listed among the top 20 anywhere in the country, chances are it's pretty special… and Long Beach is exactly that!

Stretching along the southern side of Great Keppel Island, Long Beach is sheltered by nearby Humpy Island, making it ideal for swimming, snorkelling, paddle boarding and kayaking. And at 1.6km long, you're sure to find your own patch of paradise without running into any overcrowding. In fact, it's likely you won't see another soul until the day is out. The view from nearby Mt Wyndham lookout is well worth the hour-long climb to the top and the rock platforms are the perfect place to catch a fresh feed of bream for dinner.
Ferries depart from Rosslyn Bay daily and a range of accommodation options are available.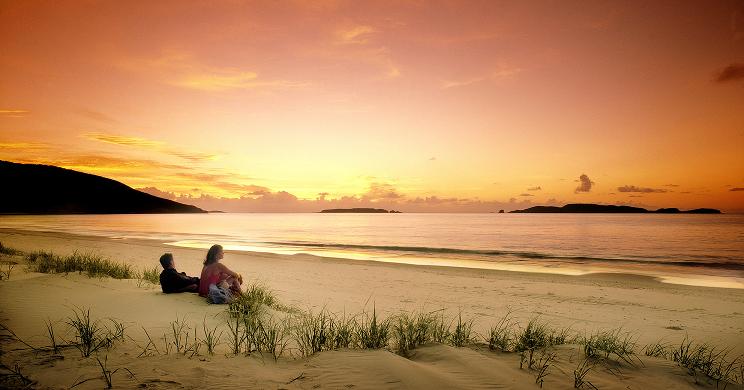 Stanage Bay – CQ
Captain Cook clearly had an eye for quality when exploring Terra Australis all those years ago. After touching down at 1770, his next stop was Stanage Bay, and today those fishermen-friendly waters continue to attract visitors from across the globe searching for sun-soaked seclusion.
Firstly, the fishing and crabbing at Stanage Bay is second to none; bream, flathead, cod, whiting headline a huge variety of estuary species that can be caught directly off beach, or by boat where they swim alongside delicious reef fish including red emperor, coral trout, nannygai and sweetlip. Big buck mudcrabs are also in abundance and with a little local knowledge, you'll be eating like a king in no time.

Secondly, there is plenty of beachfront accommodation and camping options for those looking to extend their visit and enjoy the seclusion of Queensland's second oldest outposts.
Locals have long said that Stanage Bay is proof you don't have to travel to the top end to find the last frontier… and at just under two hours north of Rockhampton in stunning CQ, we're inclined to agree!