From exotic island escapes to new reef-sleep boats, here's 6 dreamy ways to sleep on the Southern Great Barrier Reef

1. Lady Elliot Island Eco Resort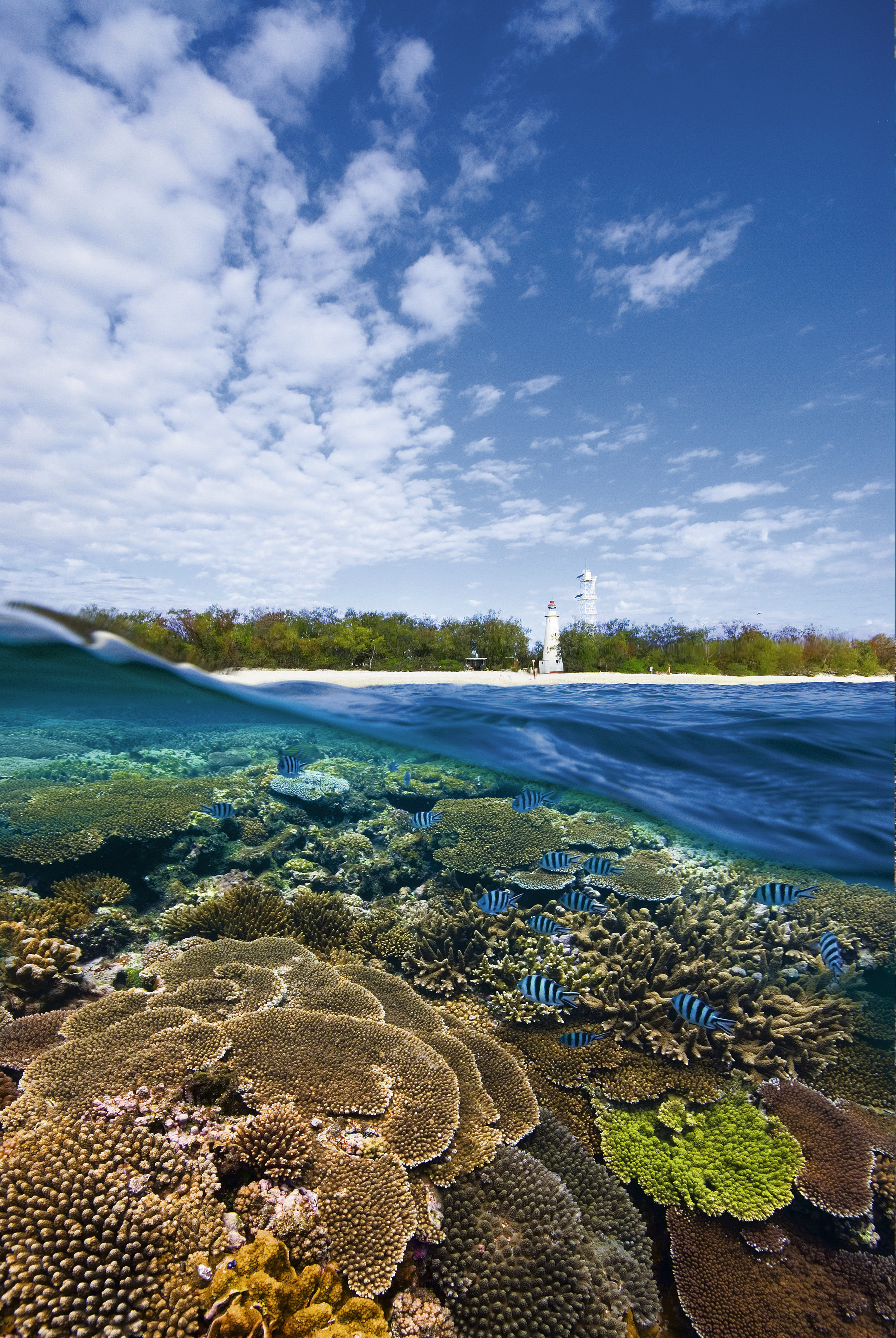 Accessible only by small plane 40 minutes from Bundaberg, Lady Elliot Island formed 6000 years ago when the water levels rose and a coral reef below the surface began to rise. In 1816, it was named after a ship called Lady Elliot. Situated 46 nautical miles north-east of Bundaberg, you'll find the rustic Lady Elliot Island Resort on this 45ha island. This eco resort boasts 41 rooms, two new eco glamping tents, a Beachfront Dining Room and Beachfront Café. Visitors flock here for more than 1200 species of marine life including giant mantra rays and turtles, among some of the most pristine sections of the entire Great Barrier Reef. www.ladyelliot.com.au
2. Lady Musgrave Island

Back in 2015, Brett Lakey launched the Lady Musgrave Experience, day tours to the outer reef aboard the 27-metre luxury catamaran, the Main Event. Now, he's upped the ante, introducing a sleep-on-the-reef experience aboard the Advance II. Guests on this experience join the Main Event on its journey out of Bundaberg Port, partaking in the day activities of other visitors, which include snorkelling turtle cleaning stations and an interpretive tour of Lady Musgrave Island. Then, when the Main Event returns to Bundaberg, overnight guests and their luggage are transferred over to the Advance II, which measures 15 metres and sleeps a total of eight guests. In the afternoon, the crew will deposit you at secret snorkelling sites, not accessible to other day tourists, ferry you over to the island for sunset, and at night, you even have the option of a dive with manta rays.In the morning, and before day tours arrive, you have the opportunity to snorkel again, swimming with dolphins and turtles and over some spectacular coral cays. National
Parks also offer limited camping permits on the island, for up to 21 days at a time.
www.ladymusgraveexperience.com.au; https://www.npsr.qld.gov.au/parks/capricornia-cays/camping.html#lady_musgrave_island
3.Heron Island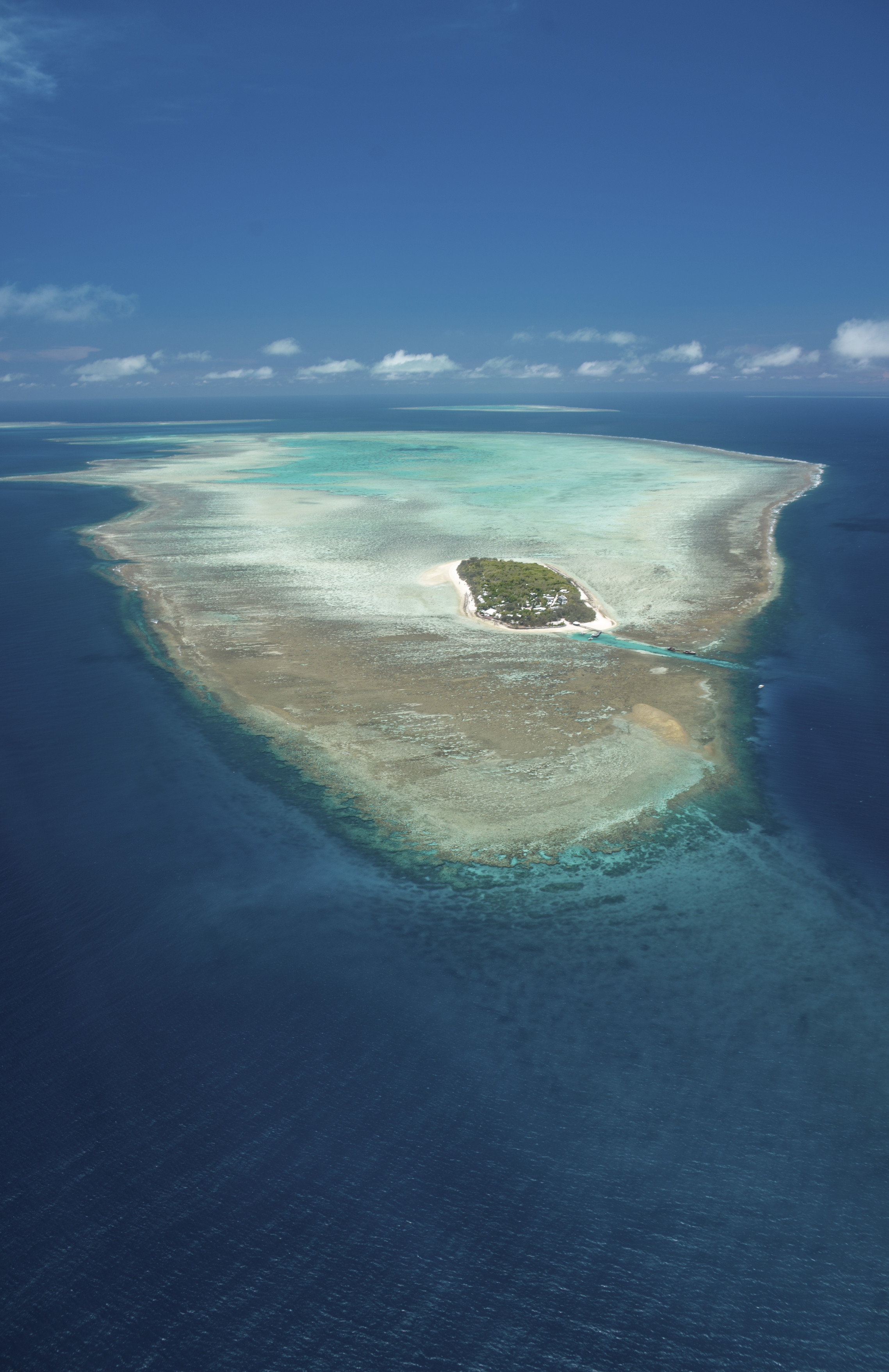 The seagulls are lined up like tin soldiers along the old timber gantry, saluting the setting sun, while, nearby, tourists sip classic cocktails such as Long Island Iced Teas and Bloody Marys. You'll know you're on Heron Island by the chatty bird population which in summer, spirals to 200,000. Perched 72km away from the Gladstone mainland, there's 9 different room types on this island, including The Beach House, four Point Suites, two Wistari Suites and a number of reef rooms. This island is also home to the Aqua Day Spa, with three single and one double treatment room, overlooking lush forest. There's plenty of types of sharks and rays here too, and 21 different dive and snorkel sites in which to spot them. For those who don't want to get their feet wet, join the I-Spy yellow semi-submersible, which provides guests the opportunity to experience the reef from below the surface while staying dry and enjoying expert commentary from one of the islands Naturalist Guides. Watch while rays and sharks shoot past the glass windows, plump sea cucumbers laze in the sand, and turtles rest at coral cleaning stations. Enjoy staghorn coral, yellow trumpet fish, bat fish, six-banded angle fish, stripy snapper, and plate coral as flat as dinner crockery. For those who do like getting their feet wet, a guided reef walk at low tide is a delightful way to learn about the marine magic out here.

4.North West Island
Situated 75km north-east of Gladstone and only accessible by boat, North West Island is ideal for tent camping and allows a maximum of 21 nights. Guests here will find composting toilets, fuel storage and a compressor bunker, but must bring everything else, including all food and drinking water. This camp area is nestled within pistonia forest with access to a walking track, and offers easy access to snorkelling and diving or reef walking at low tide.

https://www.npsr.qld.gov.au/parks/capricornia-cays/camping.html#north_west_island
5.Great Keppel Island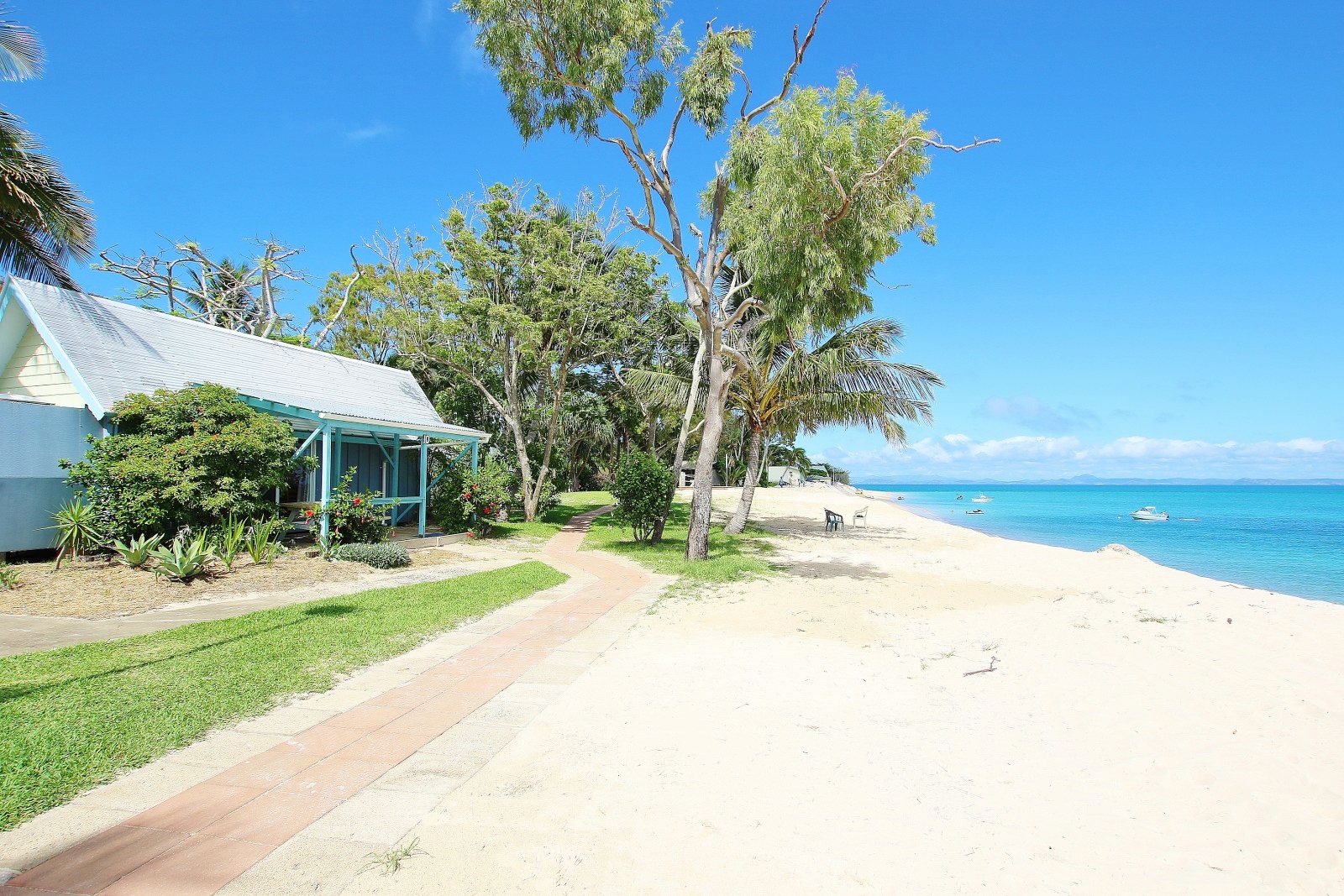 While Great Keppel Island Resort was closed 10 years ago, few people realise this idyllic island off the Capricorn Coast is still home to several resorts with a total of 300 back-to-basics beds. Instead of the old Get Wrecked campaign which dominated the island in the 80s, these days guests can Get Rested. Great Keppel Island Hideawayhas sat on the island for the past 50 years and these days touts itself as "barefoot luxury" with 48 rooms from self-contained beach cabins to budget and motel-style rooms. There's no Wifi or TV here and the emphasis is on the island-living experience, rather than the accommodation. Here, the reef is within reach, where you can walk from the ferry to the reef in 20 minutes. There's also jetskis, kayaks, paddle boards and fishing as well as island massage. On Friday nights, the Hideaway hosts a giant Parilla Argentinian barbecue with live music, and there's live music again on Sundays with local seafood.
Next door, at Great Keppel Island Holiday Village, visitors are greeted with a sign which proclaims "Peace, Love and Sandy Feet". Keppel Island Holiday Village has been operating for 20 years and touts itself as 2.5 star. Reception is in a shelter, there's free snorkelling gear and a fridge with bar snack items which operate on an honesty-box system. Here, you can sleep in anything from a two-bedroom cottage, to cabins, and tents with beds. There's no WiFi, TV music or smoking on site here. Instead, you are guaranteed an "old-world" experience where the owners remember the names of repeat visitors, of which there are many. www.greatkeppelislandhideaway.com.au; www.gkiholidayvillage.com.au
6.Pumpkin Island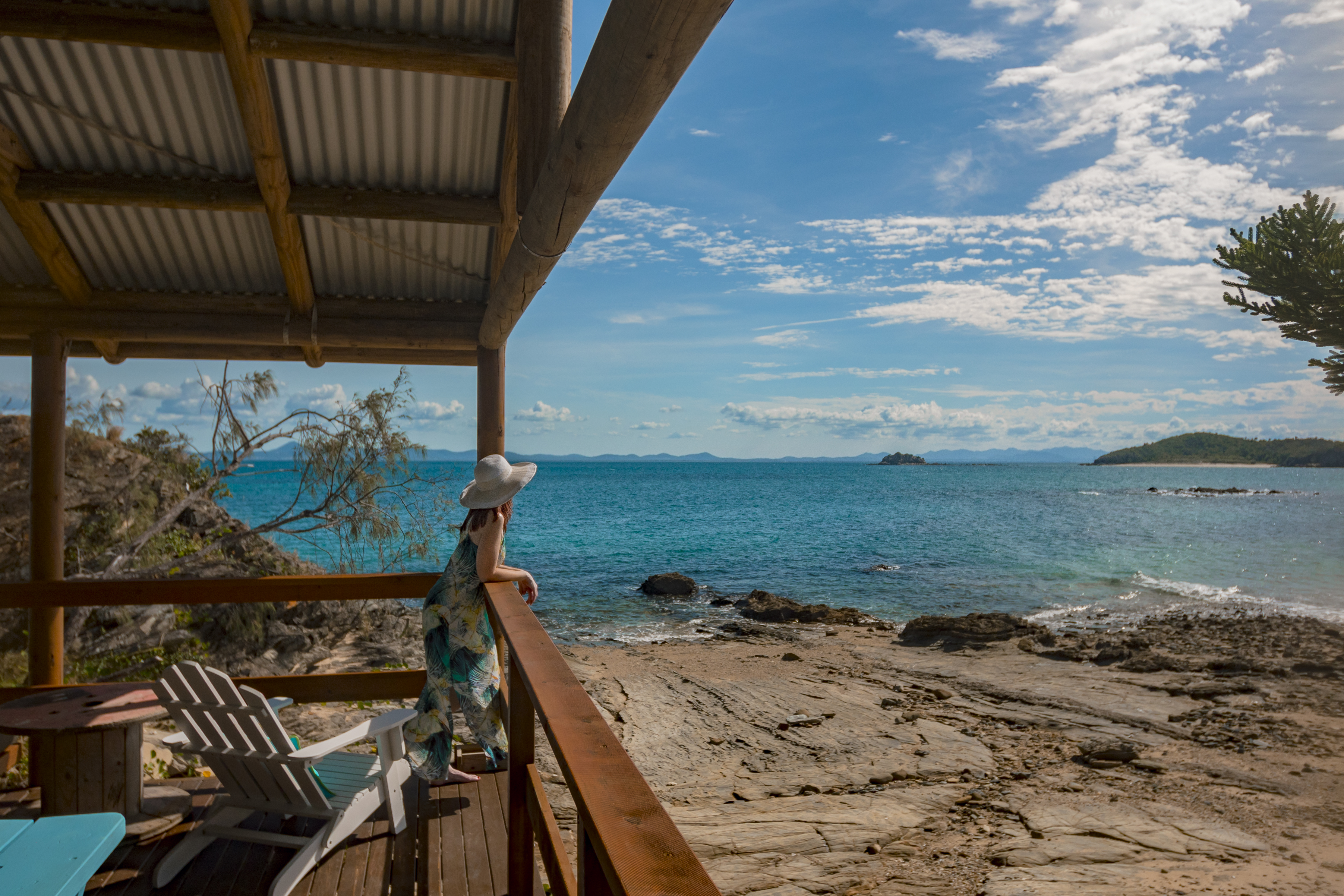 Crew aboard the Pumpkin Xpress, which transports guests from Keppel Bay Marina, across to Pumpkin Island, reckon if you spit on the west side of the island, you'll easily reach the east. And they aren't wrong. Measuring just 150 metres wide, and 450 metres long, this is the only island along the entire Great Barrier Reef, which is completely off the grid. Guests are encouraged to "reduce, reuse and recycle" on this island which offsets 150 per cent of its annual carbon emissions. If that's not paradise enough, consider this: you can even hire out the entire island to yourself, taking over the five cottages and two bungalows which sleep a sanctioned 10 adults and 16 children. While there's no restaurant on the island, you either bring your own food or order catering through the award-winning Waterline Restaurant at Keppel Bay Marina, the island caretakers will ensure you are well watered with a stocked bar at the Sunset Lounge. Activities such as kayaking and SUP are complimentary and guests can also hire tinnies to explore neighbouring islands. And the snorkelling here is simply sublime.