To Do
This jaunty journey begins with a delightful drive down Rockhampton's yawning, wide streets, which carve through the centre of the CBD like a butcher's knife. You're in reef and beef country now. Amble along East Street, the traditional and original shopping strip, past the sassy sliver which is Headricks Lane on your left, and to your right, historic court houses and the heritage former post office building, now a chic café.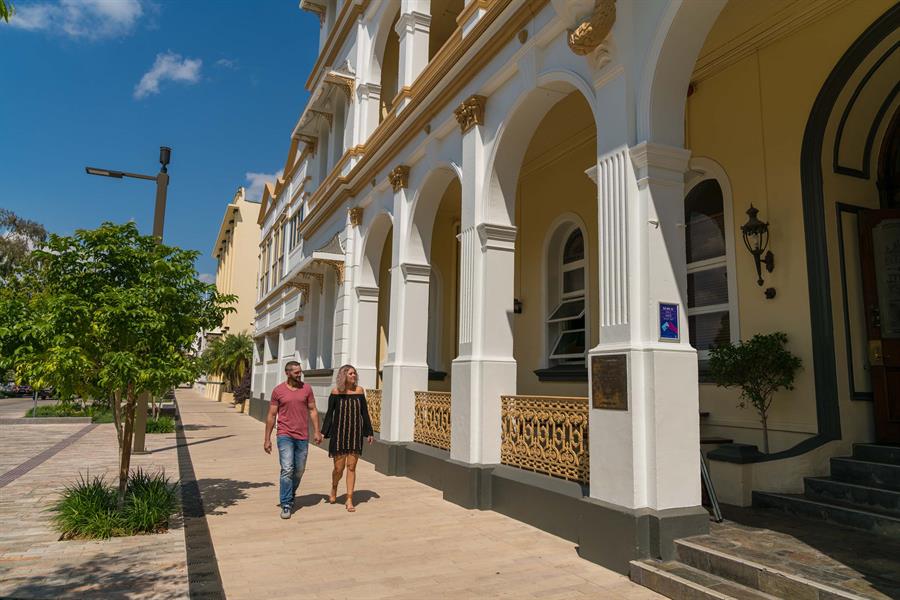 Quay Street, Rockhampton
A left turn will deposit you in Quay Street, the largest heritage-listed street in Australia, where lovely latticed verandas overlook the Fitzroy River, the largest river catchment in the country. Five rivers feed into the Fitzroy, a popular place for croc spotting, and about the only place around these parts you can't swim. These days you can wander along the newly-developed riverfront walk, replete with childrens' playground and The Boathouse Restaurant, boasting the best river sunset view in town.
A short drive north of Rockhampton, up a steep hill and past mountain bike tracks with cheeky and curious names such as First Turkey, and you'll arrive at the pinnacle of Mount Archer National Park. There's a spiffy new canopy walk here, with expansive views – including west to towards the Fitzroy River and north to the region's volcanic plugs.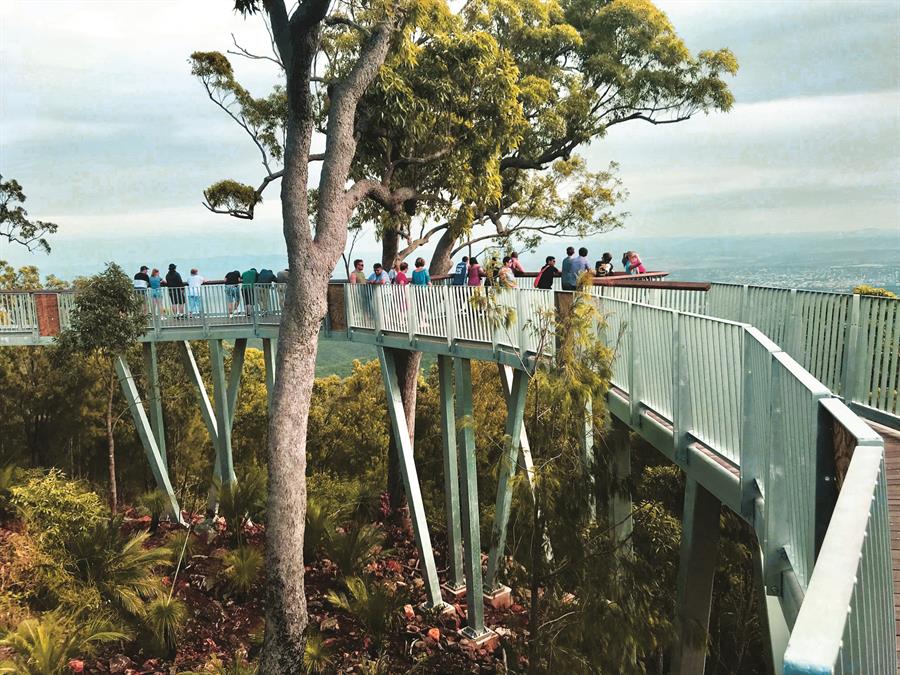 Nurim Circuit Elevated Boardwalk Mount Archer, Mount Archer Rockhampton
In recent times, a combined $200m worth of public infrastructure and projects has been injected into the Capricorn Coast and Rockhampton region and it not only shows, it sparkles. The old Tafe is now a Regent hotel, even the Great Western – best known for its bull rides – has had a face lift.

Head east towards the coastline, following the signs to Yeppoon until you hit the beach. Turn left, and check out the new $30 million Panorama Drive, aptly-named due to its views out to Great Keppel Island.
Turn right, and follow the coast road south, past the new $53 million Yeppoon Lagoon, 1970s style beach motels and charming shacks to Emu Park, before hooking back west towards Rocky and onto the Bruce Highway south towards Gladstone.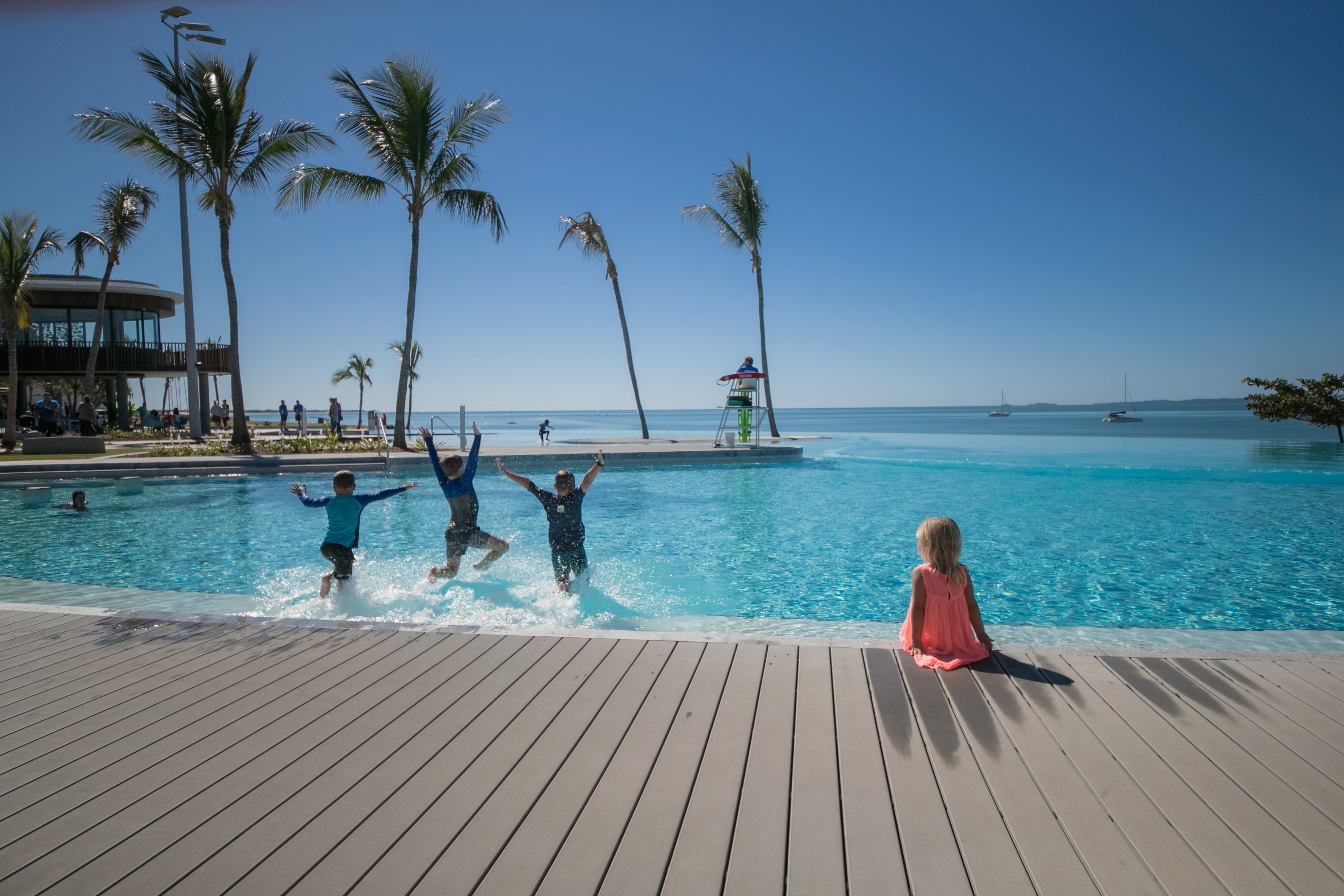 Yeppoon Lagoon, Yeppoon Capricorn Coast

You'll pass over Wild Cattle Creek and drive through the industry which makes Gladstone pump, past the marina which services its outer islands, and the new Eastshores development, home to pretty public space boasting walkways, playgrounds and water parks. Head to the hill and Auckland Point for a birds-eye view over the entire region before hitting the road south, through Tannum Sands and its burgeoning beachside coffee culture before continuing south towards the Town of 1770/Agnes Water. Wind through quintessential Queensland cattle country and past archetypal Australian gumtrees, over the Calliope River and chatty creeks with bubbly names such as Gingerbeer. Drive through Bernaby with its retro café and Bororen which boasts the Baked Bean and Big Giraffe Cafes before pausing at the Miriam Vale service station and its Big Crab restaurant for a sand crab sandwich and one of the best coffees you've ever had on a roadtrip.

Turn left here and follow the signs towards Agnes Water and the Town of 1770. Yes, Miriam Vale and Agnes Water may sound like spinster aunties, but that's all part of the charm of this region rich in retro and revival. Round Hill Road eventually arrives at a crossroads and again, it's a simple choice of left or right.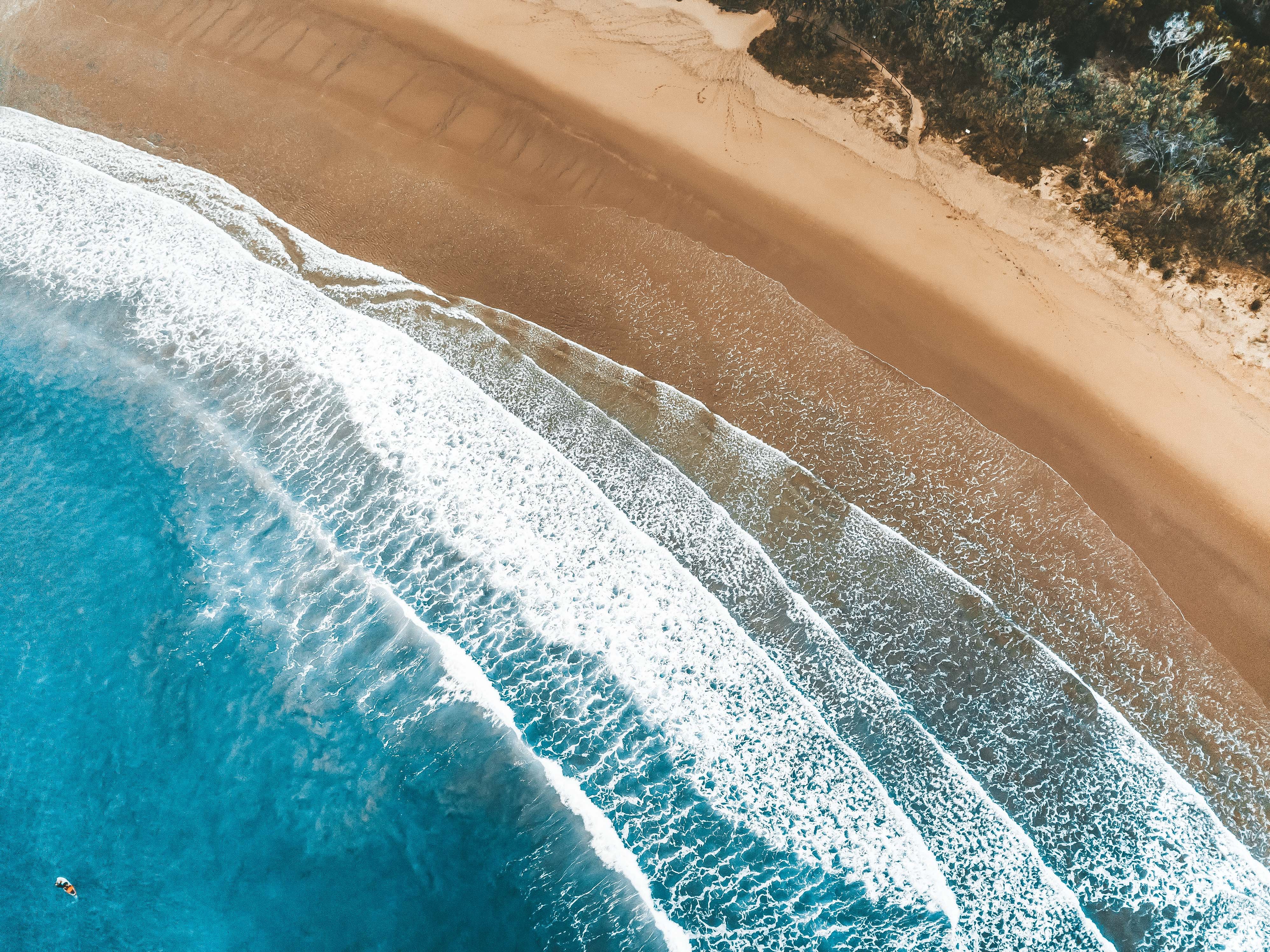 Agnes Water Beach

Left will take you along Captain Cook Drive, past stylish resorts and tourists attractions, all the way to the 1770 headland. Turn right onto Springs Road, and you can easily access Agnes Water Beach, and the magical Paperbark Forest.

Paperbark Forest Walk

It's a relaxing 90-minute country doddle along Rosedale Road between The Town of 1770/Agnes Water and Bundaberg North Burnett. Cruise past Baffle Creek and the home of that great local beer and the turnoff to Deepwater National Park, with three great camping areas.
You'll pass over the Kolan River, home to some cool kayaking, and into cane country before you reach the mighty Burnett River which leads into the Bundaberg CBD. Flanked by more historic Queenslanders, again, the choice here is simple, turn left and head towards beautiful Bargara beach and the rest of the Bundaberg coastline, or right to the airport, where you can deposit your hire car. Whichever way you turn, there's no wrong way along the Southern Great Barrier Reef.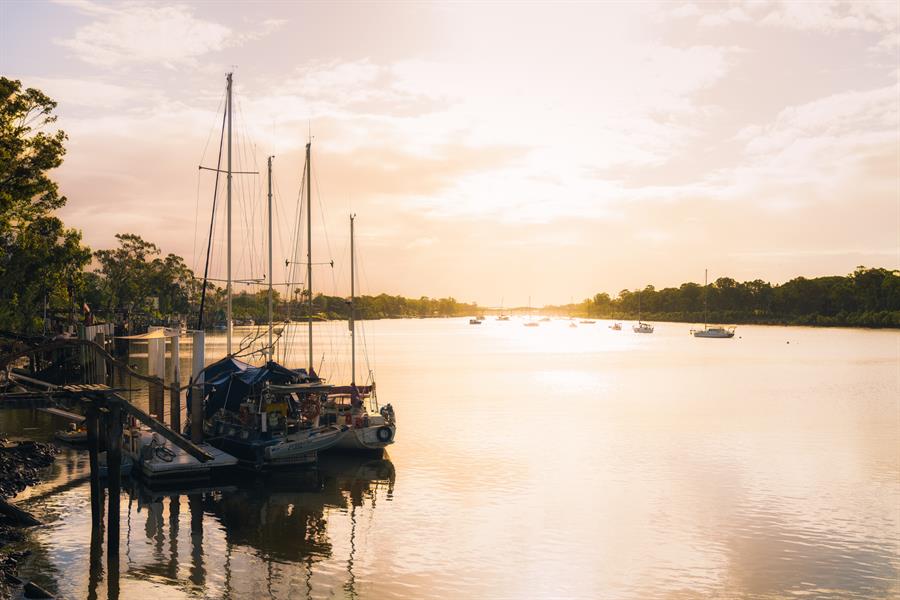 Burnett River, Bundaberg

Drive
Budget Rent A Car has four franchises in the region - one in Rockhampton, Gladstone, Bundaberg and Hervey Bay - making a fly/drive holiday to the Southern Great Barrier Reef simple. Budget does not charge a one-way drop-off fee, which gives visitors even greater choice regarding ports in which they wish to enter and exit the region. www.budget.com.au
Eat
The multi-award winning The Waterline Restaurant, perched on the Keppel Bay Marina, serves beef from the owners' Banana Cattle station, on its menu. Try the Cowboys Benedict, their Banana Station rib fillet with smoked belly bacon, a poached egg, ciabatta, and black bean salsa. www.thewaterline.com.au
The Waterline Restaurant, Keppel Bay Marina
Gladstone's Lightbox Espresso and Wine Bar serves a colourful charcuterie menu along with French champagne, bespoke cocktails, premium wine and spirits and local and imported beer. www.lightboxgladstone.co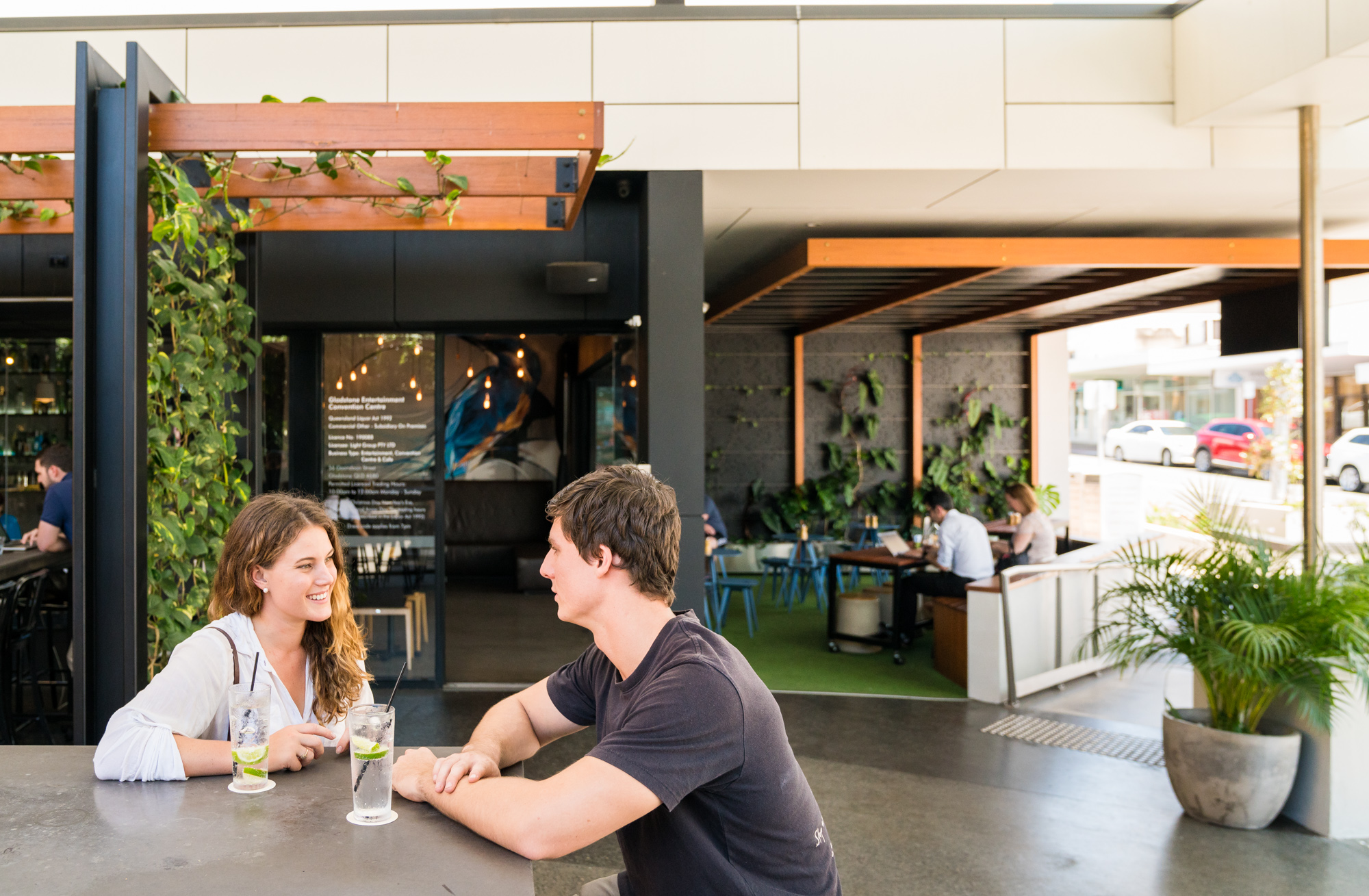 Lightbox Espresso and Wine Bar, Gladstone
Join Suzie Clarke, a former commercial cook, on one of her three Taste of Bundaberg food tours of the region. So successful are these tours, that Suzie has recently added a Drinks Tour to showcase the innovative drops, including that world-famous Bundaberg Rum, which are being produced here. www.bundyfoodtours.com.au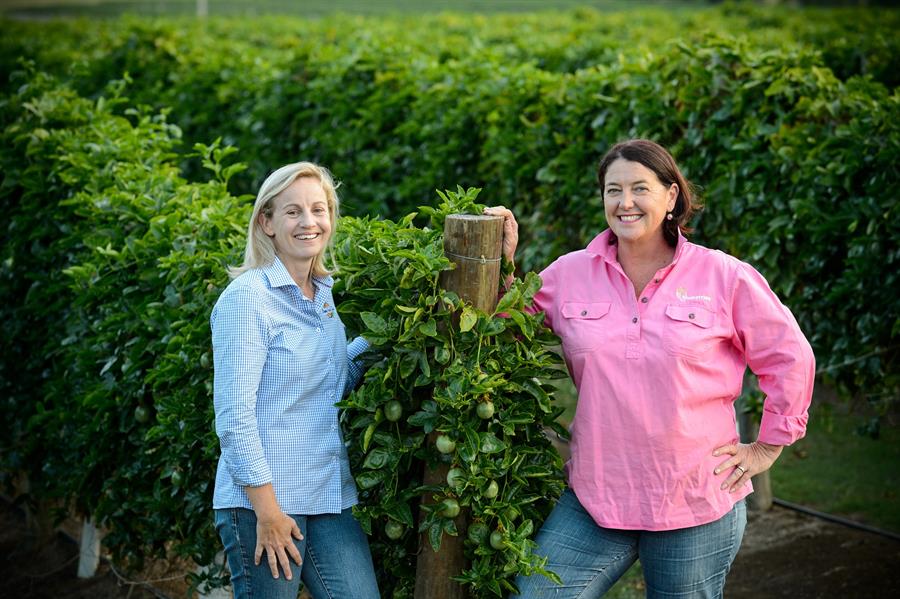 Bundy Food Tours

Sleep
Consistently voted the best in the Rockhampton region, Empire Apartment Hotel has 120 rooms, all of which boast a balcony, and three onsite restaurants including the family-owned Italian Pacinos. www.empirerockhampton.com.au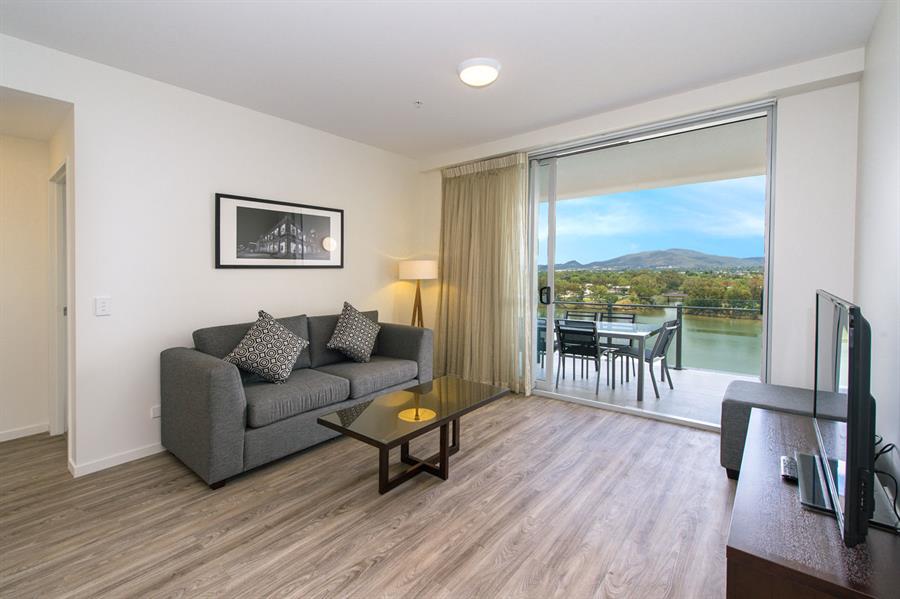 Empire Apartment Hotel, Rockhampton
So named because of the gorgeous swimming lagoon which wraps around its interior, Lagoons @ 1770 is also home to a beautiful day spa. Guests who stay on the first floor have instant access to the pool from the ladders on their balcony, those on the second floor are awarded with private spa baths. www.lagoons1770.com.au

This former 1970s Bargara beach motel has been transformed into an oceanfront den of zen. Rest, restore and recover in these beautiful rooms, all themed after the extensive travels of Zen Beach Retreat owners Shane and Pascaline Emms. www.zenbeachretreat.com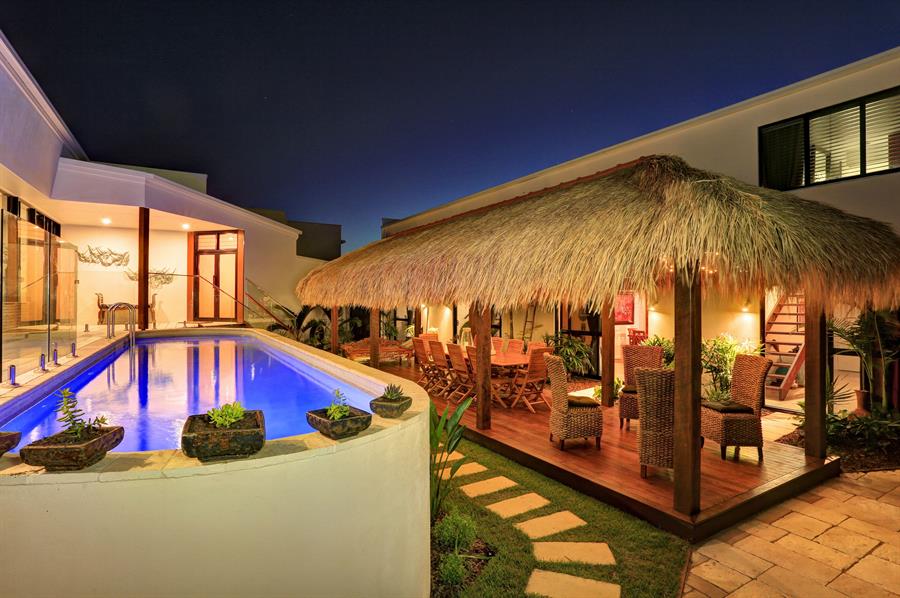 Zen Beach Retreat