1. The Tour Guide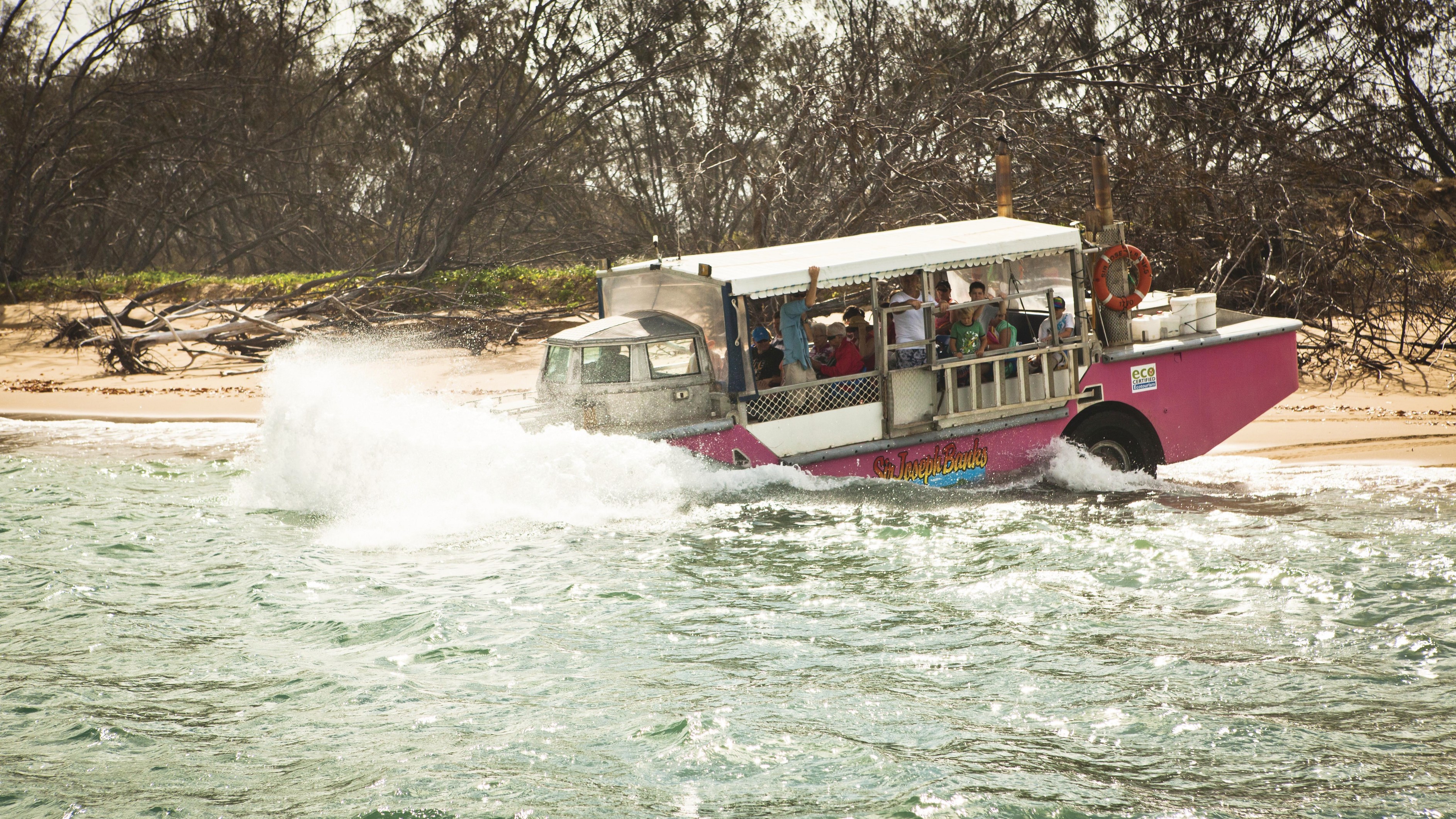 LARC! Paradise Tour Guide Sammy Organ reckons Captain Cook has been stalking her for her entire life. This former Brit was born in the same town as Cook, in England's Middlesbrough, and she now lives in the Town of 1770, within 200 metres of where the explorer first came onto Queensland land, in the year of 1770. Not only that, Sammy spends her days recounting the history of the region, and is a font of knowledge on tales about Cook and the Endeavour, among other things such as wildlife and Indigenous history of the region.

2.The Lighthouse Caretaker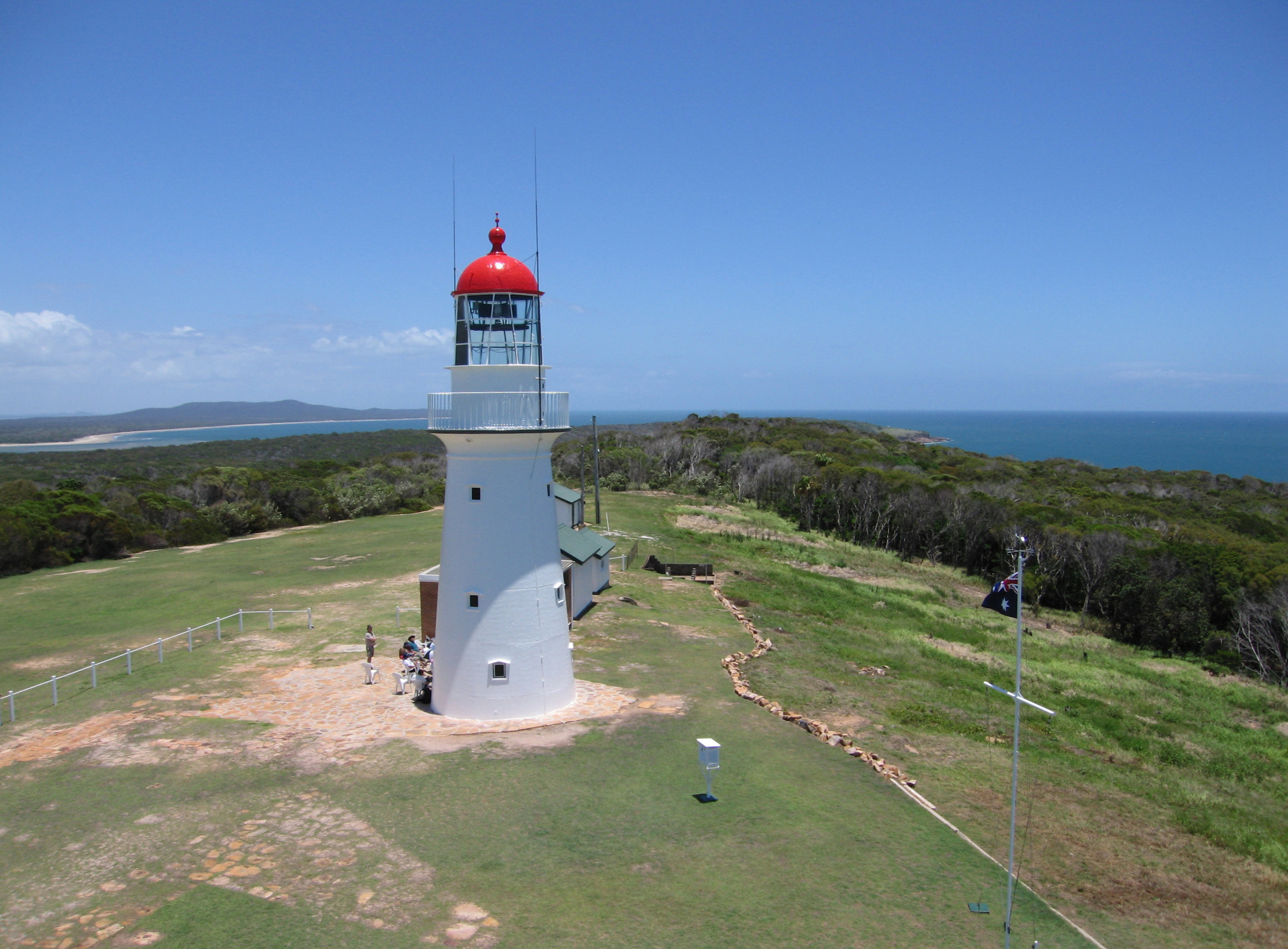 Bustard Heads Lighthouse Association President Stuart Buchanan says there's more "tragedy" in this lighthouse than in any other in Australia. While Stuart is based in Brisbane, you'll often find him at this lighthouse – the only one in Queensland open to the public – where he partakes in important caretaker duties. It's a solitary existence in one of the lighthouse keeper cottages, high on this hill. Luckily, Stuart is also an author who has written several books including the "Lighthouse of Tragedy" the story of the Bustard Head Lighthouse, among others.

http://www.lighthouses.org.au/lights/qld/Bustard%20Head/Bustard%20Head.htm
3.The Boatie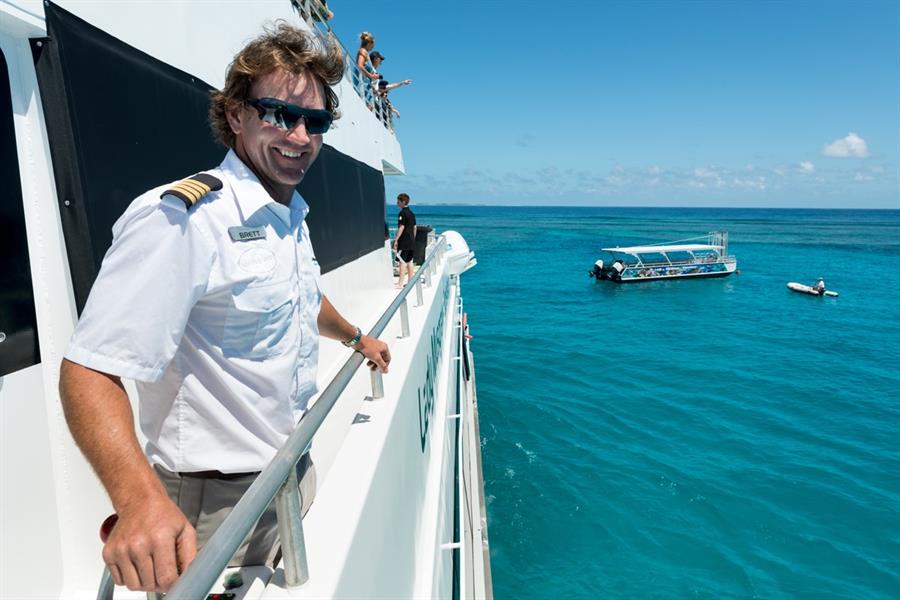 Low tide at Lady Musgrave Island and the exposed coral is clicking like an old-fashioned typing pool while Lady Musgrave Experience General Manager Brett Lakey is chatting about his latest venture. Brett, who introduced day tours to the island with his luxury catamaran the Main Event in 2015, has just launched a sleep-on-the-reef experience, aboard the 15-metre vessel, the Advance II. For this sailor, who has driven luxury boats for Richard Branson, John Singleton, and the King of Dubai, this latest move takes him back to his core love."This is like my backyard. I used to sail from Sydney to Lizard Island in Far North Queensland and this is my favourite part of the reef," he says.
"We can show them the best that's out here and give them a blast. It will just get into their body. We will teach them so much about the reef and island and they will go away as ambassadors."
https://ladymusgraveexperience.com.au

4.The Kayaker

She has a tattoo of the words "Lucky Girl" emblazoned across the nape of her neck and Janina Speck will tell you it refers to her life journey so far. Born in Germany, she moved to Honduras where, as a dive instructor, she met her Australian husband, and they both moved to the Town of 1770. Why? Because Janina remembered being a tourist here years ago and loved the place. These days, she runs her own tour business, Liquid Adventures, which takes guests out on various kayaking trips around the area. And she says she has the best job in the world. Paddling with Janina towards the sunset on a calm sea day, it's easy to see why.
www.1770liquidadventures.com.au
5.The Barista

Tucked down a small Bargara laneway, stumble upon The Journey coffee shop and in this 24 square-metre space you'll likely bump into owner Matt Grills as well. Matt, a former Bundaberg police officer, wanted to bring "a little bit of Melbourne" to this beach village, and so opened his shop in December 2016.
The Kai Coffee he uses is roasted on the Sunshine Coast and is sustainable, with donations from each sale going back to assist children in the regions where it is produced. He also serves Rawlicious raw food from made by a local cook.
You can't miss Matt, this 34-year-old ultra-marathon runner is heavily tattooed, with many designs coming from his Christian faith.
"It is about trying to provide a good vibe. The coffee is just a bonus," Matt says.
6.The Butcher

Boasting one of the cheekiest names in the business, you'll also find some of the tastiest meat in Queensland at Bundy Chop Shop. Meet affable owner Rick Elliot, whose father was a butcher in Gin Gin back in the late 80s and wanted his son to come to the "big smoke" of Bundaberg to find work. Bundy Chop Shop was the first door on which Rick knocked and in 2010 he went on to buy the business. So successful is this operation, it recently won Best Butcher in Bundaberg. These days, Bundy Chop Shop is so busy it employs 11 butchers who rotate on a seven-day week basis. Follow the scent of sultry smoke to North Bundaberg to meet Rick and his team.
https://www.facebook.com/bundychopshop/
7.The Dilstiller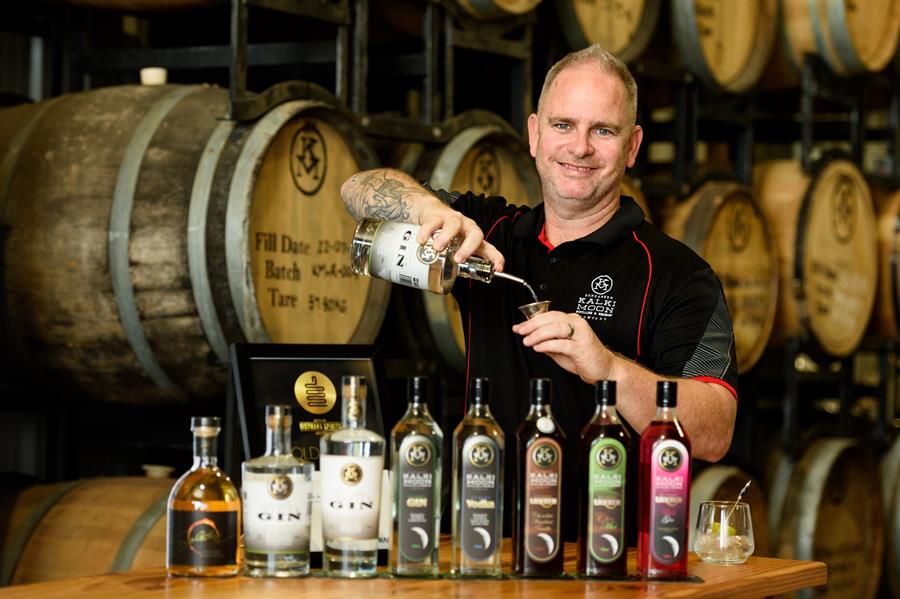 Image: Paul Beutel
Bundaberg's newest brewery operator knows a thing or two about the brewing business. Kalki Moon Distilling Company owner Rick Prosser was a blender at the Bundaberg Rum Distillery and also a master distiller before he eventually decided to open the doors on his own business. While, under law, his rum has to sit in barrels for two years and will not be ready until 2019, in the meantime, he is busy brewing and selling vodka and gin.
"The craft industries are in such a boom. People are getting more fussy about how they want to spend their money and they want to see where it came from," Rick says.
Rick assures rum drinkers his mid to premium rum will be worth the wait.
8.The Beachcomber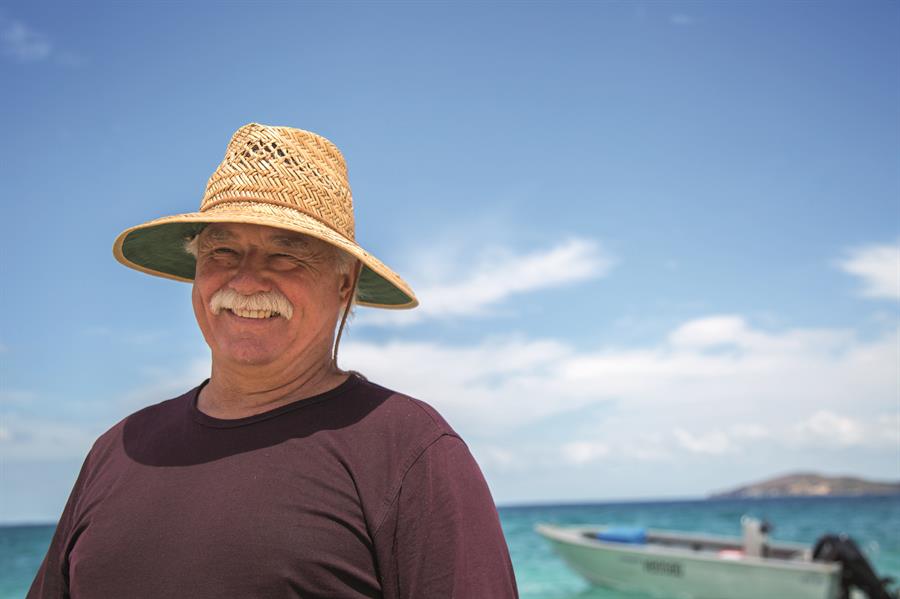 If anyone should know all about Great Keppel Island, it's Geoff Mercer, who has lived here for 39 years. For the past 20 years, he's run Great Keppel Island Holiday Village, a 2.5 star resort which he describes as "an old fibro 1960s beach hotel without the asbestos and with new beds" or a "kid's camp for adults". It's all about a laidback lifestyle here. Reception is a simple shack, there's no TV, WiFi, smoking or noise here, but a minibar which is an honesty box into which you deposit your coins in return for a chocolate. For $10 each way, Geoff will even drop you off in his 4WD at Long Beach, pointing out landmarks and points of interest along the way. If he's not snorkelling the pristine waters off the island, you'll find him in his simple shack, along Budgie Smuggler Avenue. According to Geoff: "If you're not barefoot, you're overdressed."
https://gkiholidayvillage.com.au
9.The Beef Barons

If you're looking to have a chinwag about beef, while eating some of the region's finest cuts, look no further than Richard and Libbie Wilson, who own a cattle station out at Banana and The Waterline Restaurant which serves their award-winning beef down at the Keppel Bay Marina. But it doesn't stop there for this dynamic duo who started redeveloping the harbour in 1989 and opened the first part of the marina and restaurant in 1996. They've also built a series of colourful units along the waterfront, one of which they call home when they're not out in Banana, they have a boat and can take you out on a trip, and they even own several race horses. Oh, and they've been happily married for 49 years, with several children who run their businesses (you'll find their daughter Kylie at The Waterline) and grandchildren.
10.The Healer

With his bushy beard and shock of grey hair, he looks a little like Noah straight from the ark, and if he had his way, one suspects he'd keep two of every animal as well. There's even a little bit of Jesus in his healing manner, but if you're going to break bread with Ross O'Reilly, you'd better head to Beaches Bistro, which he owns at Yeppoon, or five minutes away, at his 56ha farm, which supplies organic produce to this eatery. This former rugby league coach and real estate agent, not only owns this breezy bistro within Rosslyn Bay Resort, opposite Kemp Beach, but hosts wellness retreats and is transforming his "organic garden" into a major food enterprise. Ross has worked with everyone from homeless people to the jobless, to get them back on track, as well as local Aborigines to plant bush tucker on the property at which he eventually wants to host goat yoga classes – where participants stretch in the company of goats. So passionate is he about his project, that Ross believes the Capricorn Coast can become the "Wellness Capital" of Queensland.
"It's been my dream and passion to make a difference. The world is ready for it, there is a revolution happening out there," he says.