The US may have the Grand Canyon, but here in Queensland we have the 'Green Canyon' – a little known barranca of sandstone wilderness located some 700km north-west of Brisbane in the Southern Great Barrier Reef region.

Carved out of striking sandstone country, Carnarvon Gorge offers happy hikers (and first-timers like myself) the chance to dust off a comfy pair of boots and explore more than 21 kilometres of walking tracks.
With over 173 bird species, towering cliffs, ancient cycads, fragile ferns and Aboriginal rock art (with a gallery featuring over 2000 engravings, ochre stencils and freehand paintings), you'll feel like you're walking through dinosaur country. It's the perfect photogenic walk.
Strap up your boots, pack your day bag, grab a water bottle and get set to explore Carnarvon Gorge with these handy walking tips: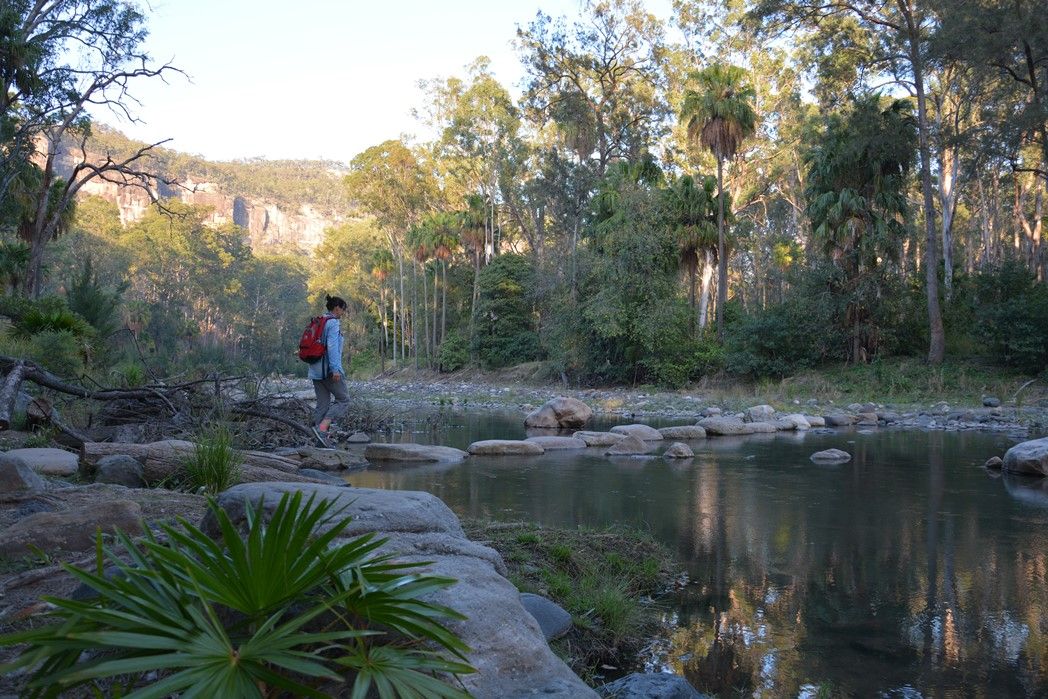 Wakey wakey
Start early to make the most of the cool weather and beautiful soft light.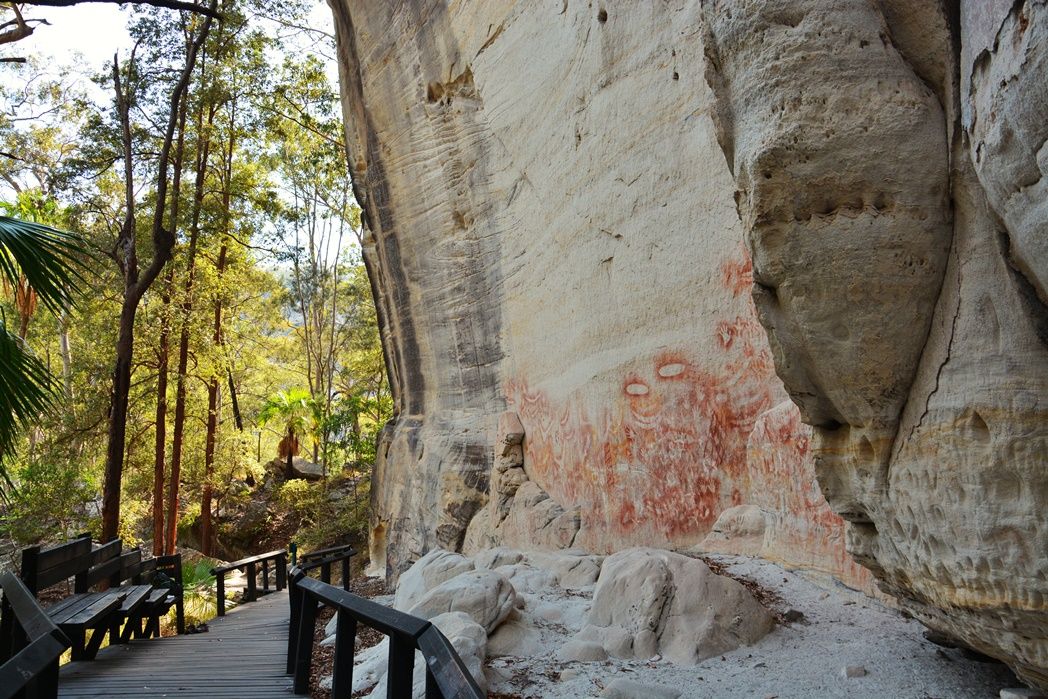 Pace yourself
Head to the furthest point of your day walk straight up. You can then cruise back and stop off along the shady boardwalks to break up your return journey.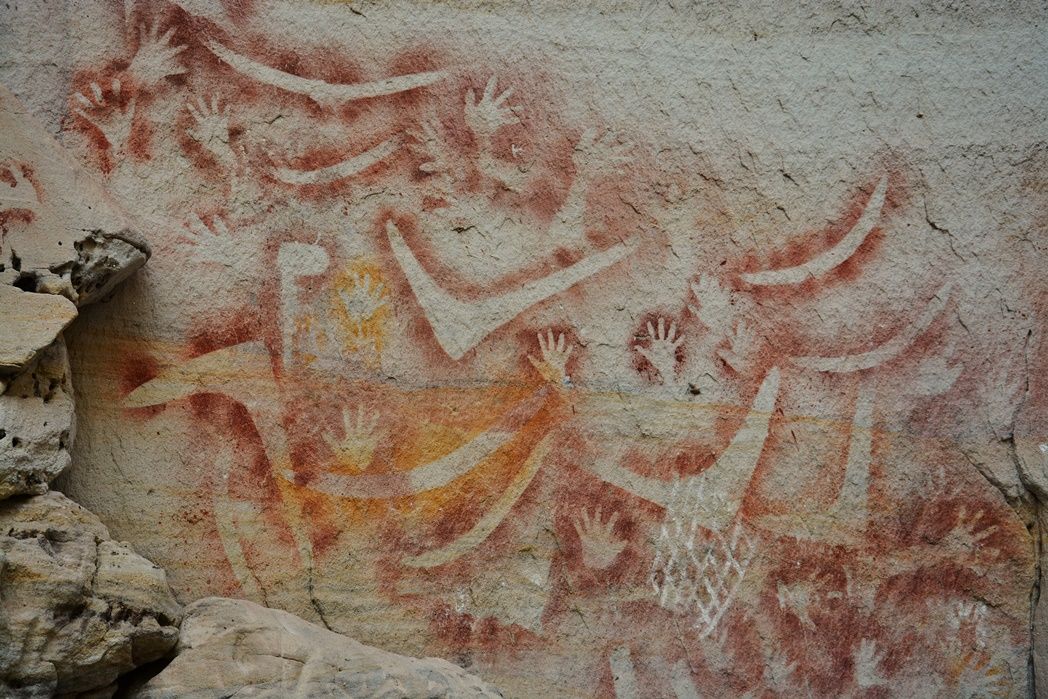 Check out the Art Gallery
Carnarvon Gorge is home to some of Australia's best Indigenous stencil art and the Art Gallery, located 5.4 kilometres from the visitor car park (one way), makes for a great day hike. There's a slight hill towards the end of the trail, but the extra huff and puff is worth it to get to the shady picnic spot at the end. The rock art tells stories from the local Bidjara and Karingbal people.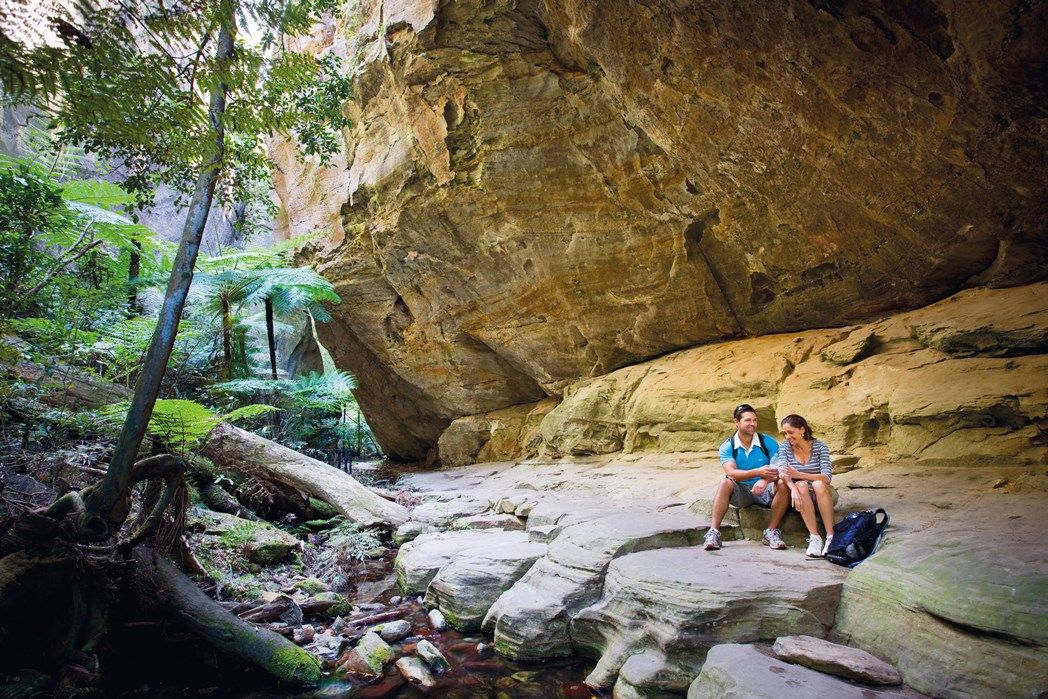 Ward's Canyon
This was my favourite spot of all. Here, you'll come face-to-face with 'green dinosaurs' as Ward's Canyon is home to the world's largest fern – the king fern (Angiopteris evecta). Ward's Canyon is 4.6 kilometres from the visitor car park (one way) and includes a short, steep track at the end that will take you alongside a waterfall.
Walking into the narrow canyon is like stepping into a chilly air-conditioned office. It's the perfect pit stop to rest your feet, cool down and watch the gentle swaying ferns.
The Amphitheatre
This one is for the slightly more adventurous walker and involves scaling a tiered ladder – kind of like an adventure to Middle-earth – to get to the point where you can venture 60 metres deep into the sandstone chamber.
This 4.3 kilometre walk (one way) is perfect for those wanting some quiet time. Inside the chamber you're surrounded in nature's very own amphitheatre.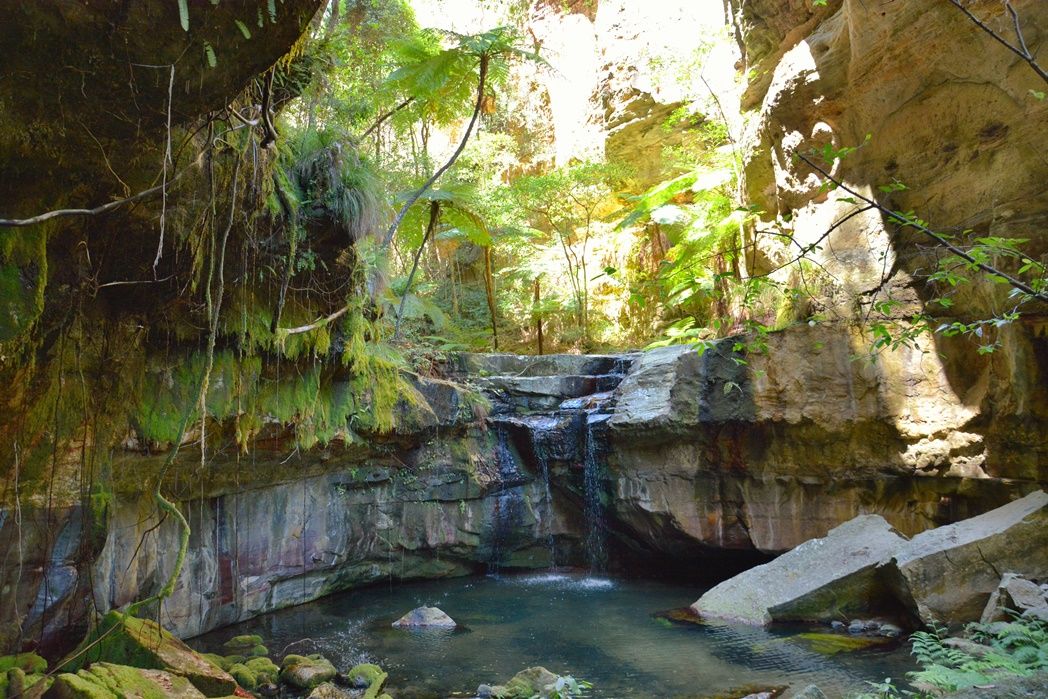 Moss Garden
Escape the midday sun and make your way to the cool waterfall and green walls of the Moss Garden. This little gem of a walk is like stepping into a storybook, where imaginary fairies play amongst sandstone walls that drip with water and lush green moss. The Moss Garden is 3.5 kilometres from the visitor car park (one way).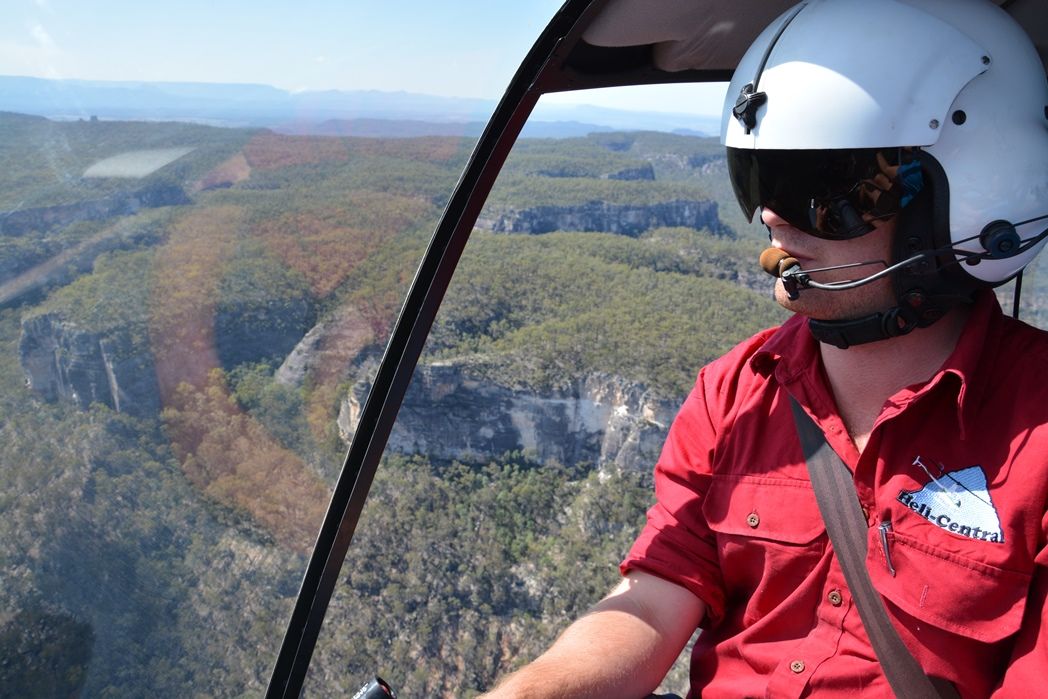 See Carnarvon Gorge without raising a sweat
If you're not a fan of hiking, or prefer to get a bird's eye view of Carnarvon Gorge, take a 10-minute scenic tour with Heli-Central. Jump aboard a chopper and let the trusty pilot (a big shout out to Lance, the awesome pilot who took me up. Pictured above) whizz you around the more remote parts of the Gorge.
Spot the Three Sisters, Wool Pack and deep narrow gorges – places normally only viewed by the hardiest of hikers who conquer the five-day trek.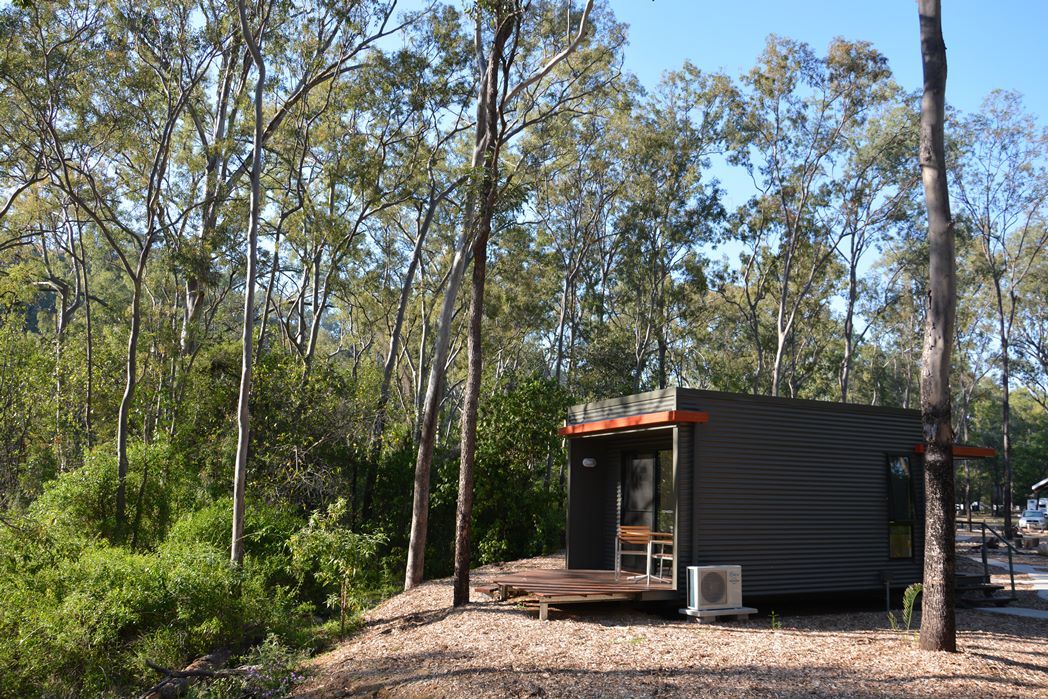 Sleep over and relax
After a day on the Carnarvon Gorge tracks you're going to look forward to jumping into one of the comfy beds at the Takarakka Bush Resort – a bush camp with brand new studios that are air-conditioned, have their own ensuite bathrooms and are the perfect haven after a fun day of walking. Spend some time snoozing in comfort and fall asleep to birdsong.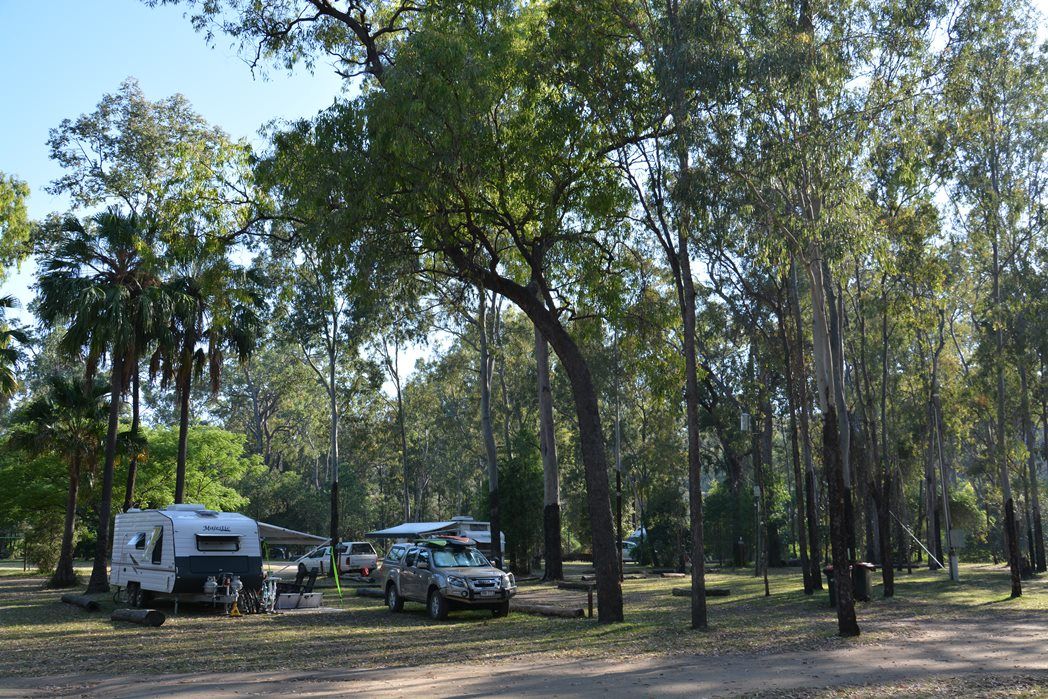 Prefer to camp or caravan?
Takarakka Bush Resort also has a heap of shady powered and non-powered sites for campers and vanners. There's kitchen facilities for all guests to use and an onsite store selling basic supplies and goodies perfect for a camp cook up. Jump onto their website or Facebook page to hear about their latest and famous roast nights.
Wine and cheese – yes please!
Looking to treat yourself or that special someone after exploring Carnarvon Gorge by foot or chopper? Take in a stunning sunset and watch the sandstone walls transform in colour with a tipple in hand and a tasty spread at your fingertips. Family owned and run Bandana Station has recently opened its doors (or front gate in this situation) to offer visitors the chance to come to their working cattle station to enjoy a spectacular sunset.
Listen to Bruce and his daughter Olivia share yarns around the fire about the infamous Kenniff Brothers, the last of Australia's bush rangers who made Carnarvon their home. Ask Bruce about his guitar – he has some great ballads penned about the region and may play a few tunes for you.
Need to know
Carnarvon Gorge is open year-round and is located between Roma and Emerald. We drove in from Rockhampton (436 kilometres) and spent a long weekend exploring the Gorge. Roads are sealed and are definitely caravan friendly, but you'll be driving on 11 kilometres of unsealed road when you arrive at Carnarvon National Park.
Winter is the peak season, with walkers preferring the cooler conditions. Some of the more challenging multi-day walks are closed during the summer months. Injune and Rolleston are the last stops for fuel before heading towards Carnarvon Gorge.
Don't miss the Rewan Memorial on your way into the Gorge. This memorial was erected to honour the lives of those Australian and US soldiers who were aboard a C47B Dakota aircraft that crash-landed in Carnarvon Creek near Rewan Station, while en-route from Darwin to Brisbane in 1943.
Have you been to Carnarvon Gorge? Got any extra tips you can share?
Originally posted on Queensland Blog as Carnarvon Gorge: A guide to the best day walks by Nelson Hall